---
The Black Ruby Foundation started making heavy-duty mobility wheelchairs better suited to South African needs and terrains.
Written by CCFM on November 16, 2021
The Black Ruby Foundation started making heavy-duty mobility wheelchairs better suited to South African needs and terrains.
Source : https://www.goodthingsguy.com/lifestyle/npo-design-heavy-duty-wheelchair-to-combat-township-and-rural-terrains/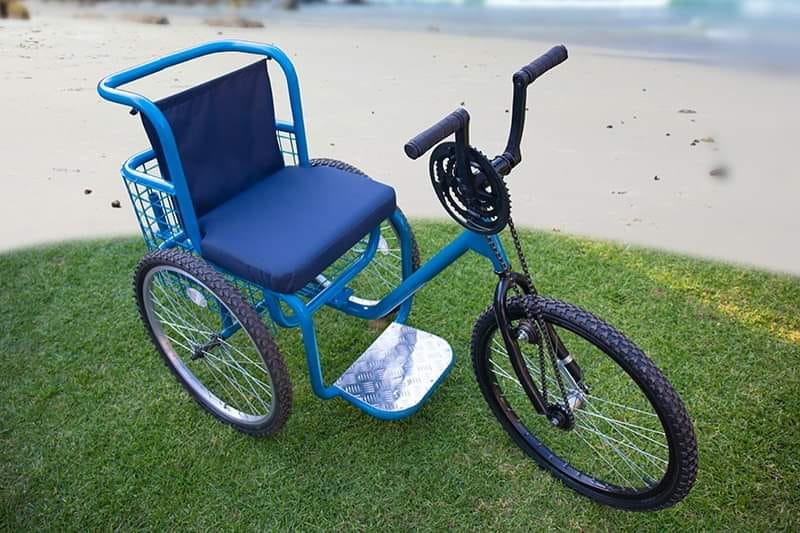 South Africa (11 November 2021) – The Black Ruby Foundation was founded to share an innovative wheelchair with South Africa's underprivileged differently-abled community. The wheelchair provides adequate mobility for South Africans living in township and rural terrains.
Nwabisa Mosiswe, who has a family member who is in a wheelchair and specialises in placing people with disabilities in corporate positions, wanted to bridge the gap by creating a wheelchair that was adapted to South African needs.
Nwabisa went looking for an engineer and a marketing person to make the products that were in her head, become a reality. Richard Ashman, an engineer and Paul Vollmer, an advertising specialist joined the team. They came together and started to design mobility equipment for home, sport and travel use.
They wanted to change the fact that there are very few mobility products are made in South Africa. Equipment is mostly imported which is why it always has such a high price tag and isn't designed to assist South Africans in township and rural terrains.
"We aimed to cover two areas of need. The first being, disadvantaged disabled people who cannot afford good equipment and the second being people who need equipment that has not yet been developed."
The average person with a disability in the townships of South Africa has a wheelchair that is a hand me down two or three times over. They are built for European conditions and it can't traverse the terrain or survive the terrain it needs to cover.
This problem led us to design and build of a Heavy-Duty Chair unit with a hand pedal action and a larger front wheel to handle dirt roads and paths. All the parts come from bicycles so maintenance and repair are a lot easier as spares can be obtained.
"We have also developed a unit that is a Heavy-Duty push/pull unit for individuals who do not have arm movement to be pushed or pulled by a caregiver."
There are several adaptive tools to help people. Paul Vollmer recently received feedback from one of the heavy-duty handcycle chair recipients.
"He lives in a rural town and has an old wheelchair that is not suited to SA conditions and its permanently broken. When we were developing the heavy-duty hand pedal chair we gave him a prototype unit A) to test and monitor the unit and B) because he really needed it. (At the time he was stuck at home moving around on his hands on the floor.) I saw him a short while back and he has built a trailer for his handcycle chair and is running a snack shop out of it at the local taxi rank. His mom says he is never home."
The Foundation works with CSI projects to get funding for people in need.
"We interact with the hospitals, clinics, schools and welfare groups in the area we are trying to assist and they suggest patients in need.

With corporates, we start with a communication to all the staff to nominate people in the areas they live who they think need assistance."
The organisation has a section 18 tax number. Should you wish to find out more, you can find out more here.
---