---
Lukhanyo Am and Nomawethu Mabenge Nominated for World Rugby Awards
Written by CCFM on November 16, 2022
Lukhanyo Am and Nomawethu Mabenge Nominated for World Rugby Awards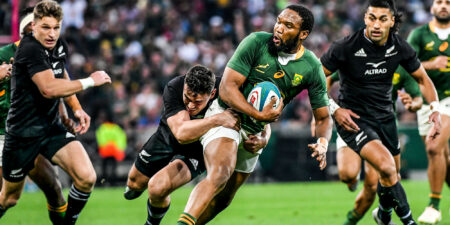 Source : Lukhanyo Am, Nomawethu Mabenge Nominated for World Rugby Awards (goodthingsguy.com)
The nominees for the World Rugby Awards have been announced and South Africa's Lukhanyo Am and Nomawethu Mabenge have received nominations.
South Africa (15 November 2022) – The World Rugby Awards will take place in Monaco on Sunday, 20 November 2022. The awards highlight the best rugby players, coaches and teams each year. This year, two talented South Africans have earned nominations for the awards.
Selected by the star-studded World Rugby Awards panels, which included South Africa's John Smit, Nick Mallet and Bryan Habana.
Fans can cast their vote on social media and select their winners for the two International Rugby Players Men's and Women's Try of the Year categories until Thursday, 17 November at 23:59 GMT.
Twelve countries are represented among the nominees in Australia, Canada, Chile, England, Fiji, France, Italy, New Zealand, Scotland, South Africa and Wales, with Ireland having the most representatives with eight.
"The World Rugby Awards are the ultimate accolades for rugby, and we are delighted to honour the outstanding players and individuals who have made an impact on our game on and off the field in 2022.

"On behalf of World Rugby, I would like to congratulate all nominees of this 22nd edition for their incredible achievements over the past calendar year. Not only have they showcased tremendous rugby skills, but they have also inspired millions of fans around the world helping spread the values of our sport.

"I am looking forward to host the global rugby family next Sunday under the high patronage of HSH Princess Charlene of Monaco and the Principality for a night of celebration in Monte-Carlo." – Sir Bill Beaumont, World Rugby Chairman
The South African players nominated are Lukhanyo Am and Nomawethu Mabenge.
Nomawethu Mabenge was nominated for the "International Rugby Players Women's Try of the Year" for her try during the South Africa, v Spain on 12 August 2022. You can vote for her here.
Lukhanyo Am was nominated for the "World Rugby Men's 15s Player of the Year". Vote for him here.
"Lukhanyo Am is also nominated for the first time, having helped the Springboks to a series win against Wales earlier this year." – World Rugby
---