---
Rasheeda Ismail celebrated her 21st birthday on the night shift at Groote Schuur, and now she will be celebrating her 65th birthday before she retires.
Written by CCFM on November 16, 2021
Rasheeda Ismail celebrated her 21st birthday on the night shift at Groote Schuur, and now she will be celebrating her 65th birthday before she retires.
Source : https://www.facebook.com/HeroesofGrooteSchuur/posts/rasheeda-ismail-celebrated-her-21st-birthday-at-groote-schuur-and-in-a-few-weeks/957880428404468/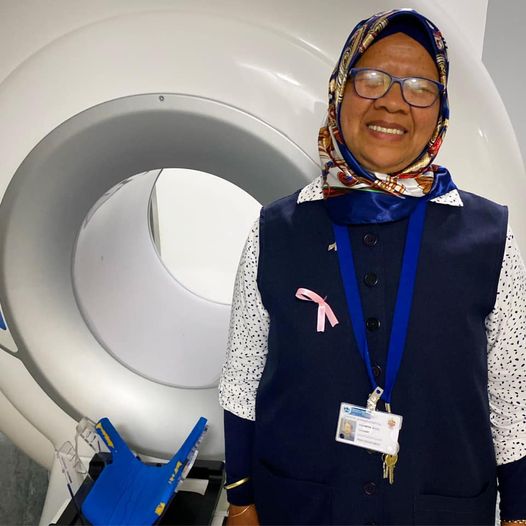 Rasheeda Ismail celebrated her 21st birthday at Groote Schuur and in a few weeks she'll celebrate her 65th birthday before she retires. Here's her story:
"I'm retiring on the 30 November after 46 years. This was my very first job. I didn't even finish high school. When I was in Grade 8, my mother passed on, and I had to go out and seek work.
The hospital was advertising a post for a technical assistant in the sterilising department. And there were four of us girls that decided to come and try for the job. After that the days went by and then I thought maybe I hadn't been accepted for the job. Then on the 9th of February my friend came and said to me, 'Rasheeda, when are you coming to work?' I said, 'Excuse me, nobody notified me that I got the job?' She said my name was on the work list every day for the past week and I never even knew. So my first day was the 10th of February 1975. I came in and everybody said, 'Woah is this Rasheeda who hadn't even started yet but took all those days off?'.
And that's how it began. In the sterilising department – where we sterilise all the instruments, all the dressings for the wards and theatres.
I was so excited to get this job because I always said I wanted to work in a hospital. In those days we couldn't wear earrings, we wore royal blue dresses, lace-up shoes and pantyhose, and all our hair had to be in theatre caps. No nail polish or jewellery, nothing. It was very strict.
By the time I was 21 I was on night shift. I had my 21st birthday at work. It was so phenomenal, it was like my second home here, like my family. You share three quarters of your life here at work.
I used to play a lot of badminton and netball. I would get home from night shift and sleep for 3 or 4 hours, then be at my matches by 3pm and back on duty by 7pm. I grew up in this place.
I remember an elderly lady that came with a walking stick and I felt so attached to her. She was apologising that she didn't get her folder so I said I would go get it for her. She normally would always collect her folder on her way to the ultrasound. But I didn't want her to walk, so I went to fetch the folder. Two days later a big bouquet of flowers arrived and I thought it must be for one of the doctors, never for a clerk like me. But it was for me, I couldn't believe it. That lady sent flowers to say thank you very much. And then she passed away two days later. Her daughter phoned me and let me know. It was so sad. I went to her house when I was off, I took public transport and went to see her daughter and pay my respects to the family.
To work in this hospital has been phenomenal. Doctors that have left and gone into private practice have offered me jobs with them and more money but Groote Schuur is my passion, this is my place. I never got married or had children.
I don't have big plans yet for my retirement. I work at my mosque and I want to do more charity work and have some me-time." – Rasheeda Ismail – Senior Admin Officer, Radiology
---