---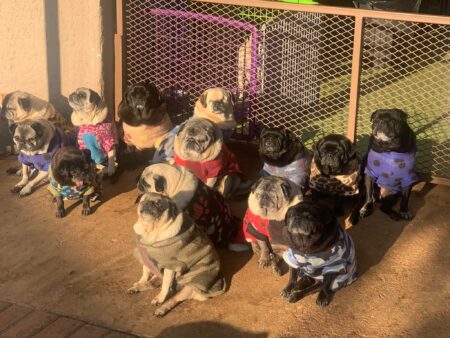 Source : Pug Oldies Soaking Up the Winter Sunshine is Everything! (goodthingsguy.com)
South Africa (19 May 2022) – Pug Rescue South Africa recently shared a photo that had us beaming with smiles. It was a picture of all their golden oldie pugs soaking in the winter sunshine.
As winter sets in, it can be hard on our furry friends, especially if they have old bones. Thankfully, South Africa is home to some beautiful winter sunshine that generally melts away the chill of the day.
Hands up if the animals in your home seem to follow the sun around the house. We checked with the Good Things Guy team and yup, all the furry friends in our team are sun chasers. In fact, there is an old cat sitting on the windowsill soaking in the sun of the day as this article is typed.
Pug Rescue South Africa rescues, rehabilitates and re-homes unwanted, abandoned, neglected and surrendered pug dogs in South Africa. They were founded in 2008 and work to help as many pugs as possible. As with any animal welfare organisation, the senior citizens always seem to struggle most when finding a home which is why the rescue has so many oldies in one picture.
You can support the rescue organisation by making donations of food or even money but if you want to have some hands-on fun, the organisation is hosting "The Amazing Pug Race" on the 29th of May 2022. You can find out more about the race here.
"This is a fun event with our rescues. Our rescues love attention and love having fun. Please help us give our rescues the opportunity of having their own person for an hour. If you are not able to make up a team, we will add you to a team. If you would like to spoil a rescue and not able to be part of a team please book your spot for 09:30.

This is not a race, this is 5 activities you do in a team with a rescue each. Grooming, agility course supervised by an animal behaviourist, quizz and photo booth. No running and no dragging. Fun! Fun! Fun!"
---