---
Meet the Children's Hospital Facility Dog That Knows 40 Commands, Including How to Play Cards
Written by CCFM on April 8, 2022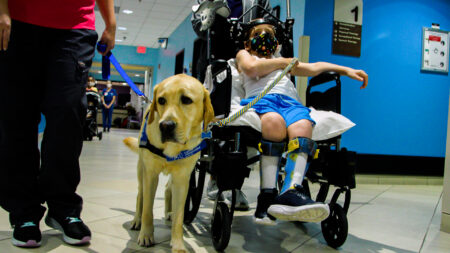 Source: https://www.southernliving.com/culture/pets/orlando-health-arnold-palmer-hospital-for-children-facility-dog-parks-canine-companions
Meet the Children's Hospital Facility Dog That Knows 40 Commands, Including How to Play Cards
For one Florida children's hospital, the newest "therapeutic tool" has four paws, a wet nose, and is met with smiles everywhere he goes.
Parks, a two-year-old yellow Labrador retriever, started working at Orlando Health Arnold Palmer Hospital for Children in February and has already left quite an impression. As the hospital's first facility dog, Parks works with the child life team to help bring healing, comfort, and fun to young patients, their families, and staff.
The certified good boy knows more than 40 commands and can turn light switches on and off with his snout, open doors, help with laundry, and even (sort of) play cards!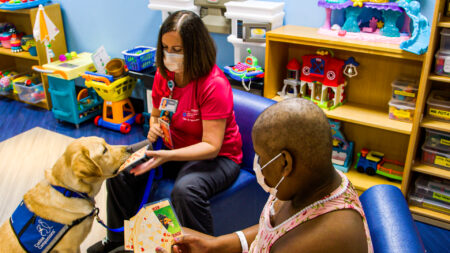 His handler, Kimberly Burbage, has been a child life specialist at Orlando Health Arnold Palmer for 15 years. She stepped into her new role as Parks' handler earlier this year.
"I have been interested in creating this program at Orlando Health Arnold Palmer for several years and am excited to be able to incorporate Parks into the hospital journey of our patients and families," Burbage said in a news release. "I can already see the impact he is making with our children and adolescents. I'm so grateful for the opportunity to partner with Parks in bringing some great therapeutic benefit and normalcy to the patients here at the hospital."Introducing Orlando Health Arnold Palmer Hospital for Children's New Facility Dog, Parks!Welcome, Parks! The newest member of our Child Life team, Parks, holds the special distinction of being our first facility dog. He's been trained beyond the role of a comfort animal and has completed his national certification. #ChooseOrlandoHealth #OrlandoHealth #ChildLifeMonth Posted by Orlando Health Arnold Palmer Hospital for Children on Tuesday, March 22, 2022
Burbage and Parks were matched by Canine Companions, an organization that trains and provides facility dogs to professionals working in healthcare, criminal justice, and educational settings. The cost of training a facility dog like Parks is about $50,000, but he was placed with Arnold Palmer Hospital free of charge.
Burbage told The Washington Post that she immediately felt a close connection to Parks—that she was amazed by his obedience and intellect, and also tickled by his "goofy side," which she knew patients would appreciate.
"He is really wonderful," she told the newspaper.
Parks works at the hospital Monday through Friday, providing emotional support for patients and families. He also serves as a motivator for patients to reach certain goals and milestones. When he's off the clock, Parks lives full time with Burbage.
---