---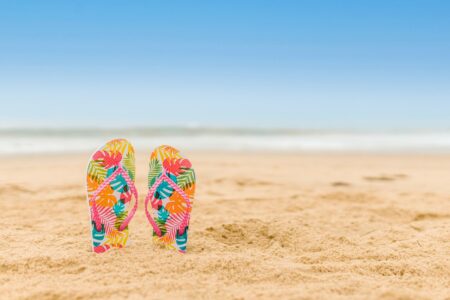 Source: https://www.goodthingsguy.com/lifestyle/2-million-to-fight-cancer/
CHOC Childhood Cancer Foundation SA is deeply thankful to every South African that purchased a flip flop day sticker; they managed to raise R2 million!
South Africa (07 April 2022) – The CHOC Childhood Cancer Foundation SA celebrated its 3rd annual flip flop day on the 18th of February 2022 and managed to raise over R2 million to support children fighting cancer.
CHOC is a non-profit organisation that advocates for the health and well-being of children and teenagers diagnosed with cancer or life-threatening blood disorders. The passionate and dedicated staff and volunteers of CHOC aim to save lives through early detection and comprehensive support programmes for the families affected by cancer, such as; accommodation, transport assistance, psychosocial, emotional, and practical support, and more. They also provide awareness and education on childhood cancer and life-threatening blood disorders.
Childhood cancer is a frightening reality that many families across South Africa have to deal with daily. South African families face the most challenging battle they will ever have to encounter – alongside the little warriors fighting on the Frontline. But luckily, these brave children and teenagers, along with their families, never have to stand alone.
"Our 3rd Flip Flop Day, we were given an opportunity to show the children our passion and support by reminding them that they are never standing alone! CHOC's annual event was celebrated on the 18th February 2022, and it was bigger, better and filled with more sole.  South Africans are certainly filled with wholesome souls when it comes to our children, showing that we can rally behind them, as CHOC SOLE-diers, and truly be a force to be reckoned with."

"We are incredibly excited to announce that we have raised just over TWO MILLION RAND for Flip Flop Day 2022, an amount that seemed like a dream when we went into our third year."
The money raised from Flip Flop Day 2022 will be going towards the CHOC Core Programmes. These programmes include the Emotional Support Programme, Awareness Programme as well as the patient facing support needs. This support includes emotional care, from diagnosis onwards and patient facing support ranging from accommodation, transport, CHOC Carebags, and basic nutritional support. Without our support, many children – particularly from low-income families living far from treatment centres – would not be able to access or adhere to the necessary but arduous treatment cycle, which can last over three years.
Some of the funds raised will also be used to advocate on behalf of those whose lives have been affected by childhood cancer through awareness campaigns and lobbying.
"Flip Flop Day has been an incredible campaign, a campaign that surpassed all our expectations. The expectations of how many stickers were sold, how many children and schools participated, how many board rooms simultaneously had jackets and flips flops. The how many's just keep on going but most importantly the amount of awareness around the journey of patients who are undergoing cancer treatment. I would like to thank South Africa for embracing Flippie and myself for my maiden campaign." – Hedley Lewis, CEO of CHOC Childhood Cancer Foundation
The foundation is grateful to every person that purchased a sticker for flip flop day.
---