---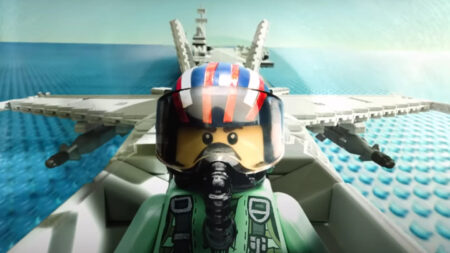 Source: This Fan-Made Lego Top Gun Maverick Video is Incredible!!! (goodthingsguy.com)
This Lego-themed Top Gun: Maverick trailer is unbelievable… and might be better than the original!
Global (07 June 2022) – It's been 36 years since the original Top Gun was released, but the sequel is finally here, and fans are LOVING it.
Top Gun: Maverick earned an estimated $295.6 million in North America and $261.6 million in the global market in its first ten days, totalling $557.2 million. The movie has garnered a 99% score on Rotten Tomatoes, with top critics and fans giving it rave reviews.
Movie critic James Berardinelli even stated that Maverick is one of those rare breeds: a sequel that's better than the original! And now we have a trailer that might be better than the original too.
OnBeatMan, an independent lego creator on YouTube, crafted one of the best Lego recreation trailers we have ever seen!
"After months of painstaking work… I recreated the TOP GUN: MAVERICK trailer in Lego, one frame at a time. This was created 100% independently out of my love for Top Gun, cinema, and LEGO."
The recreation is absolutely spectacular. Watch it here:
And if you haven't seen Top Gun: Maverick yet, we suggest you get down to your local cinema as soon as possible.
"After more than 30 years of service as one of the Navy's top aviators, Pete "Maverick" Mitchell is where he belongs, pushing the envelope as a courageous test pilot and dodging the advancement in rank that would ground him. Training a detachment of graduates for a special assignment, Maverick must confront the ghosts of his past and his deepest fears, culminating in a mission that demands the ultimate sacrifice from those who choose to fly it."
---