---
South Africa's State of Disaster Extended into 2022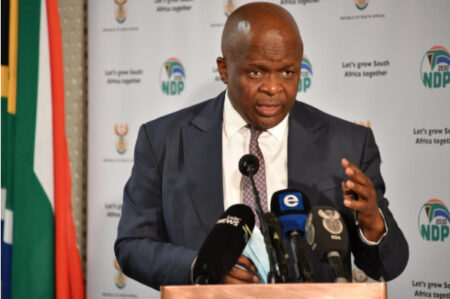 Source :https://businesstech.co.za/news/government/545464/south-africas-state-of-disaster-extended-into-2022/amp/
President Cyril Ramaphosa's cabinet has approved the extension of South Africa's national state of disaster into 2022.
In a media briefing on Thursday morning (9 December), minister in the presidency Mondli Gungubele said that the state of disaster will be extended until 15 January. Cooperative Governance and Traditional Affairs minister Nkosazana Dlamini-Zuma is expected to formally gazette the extension within the coming week.
This would make it the 22nd month under the state of disaster since it was declared at the end of March 2020, and the 19th extension of the regulations after their first end date of June 2020.
While the national state of disaster was initially set to lapse on 15 June 2020, the act provides that it can be extended by the Cooperative Governance and Traditional Affairs minister by notice in the gazette for one month at a time before it lapses.
The government has relied on the regulations to introduce and give effect to lockdown restrictions, which it has used to curb the spread of the Covid-19 pandemic.
However, it has also faced criticism for giving national government wide-ranging powers over the lives of citizens, with few limits and little to no oversight from parliament. The latest extension means that South Africa will be nearing 30 months of restrictions.
While there appears to be no end in sight for the state of disaster, for the first time since the pandemic began president Cyril Ramaphosa has hinted that new Covid-19 specific regulations could be introduced.
In a national address on 28 November, the president said that his government has started the process of amending health regulations so that government can review the use of the Disaster Management Act to manage the response to the pandemic, with a view to ultimately lifting the national state of disaster.
However, the government is likely to continue relying on the legislation over the short term as the country is now in a fourth wave of Covid-19, with cases driven by the Omicron variant.
---