---
SA Public Holidays and How to Maximise Your Time Off in 2022
Written by CCFM on January 4, 2022
SA Public Holidays and How to Maximise Your Time Off in 2022
Source : https://www.goodthingsguy.com/lifestyle/2022-public-holidays/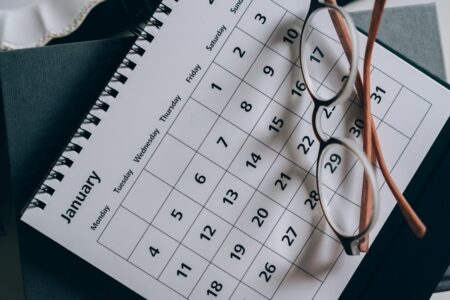 2022 has afforded us several public holidays that fall on working days this year, which means we get more time off this year!
South Africa (03 January 2022) – At the start of each year, we sit down with our calendars and plan parts of the year. Each year, we also take a look at all the public holidays and where they fall in the year. This is done for planning small getaways and ensuring you know which are the ideal days to take leave to maximise your own time off.
During 2021, many of our public holidays fell on weekends or mid-week, where they served very little in terms of getting extra days of leave. Public holidays that fall on a Saturday do not get carried over, but those that fall on a Sunday are always observed on Monday. For example, this year, Christmas Day falls on Sunday the 25th of December 2022, so it would be observed on Monday the 26th; however, the 26th is also a public holiday – Boxing Day, and so both days off will be observed as only one.
Now we know many South Africans cannot travel, and that is okay. We hope that by highlighting these days, it gives people opportunities to plan, whether that be a family trip, a perfect wedding date or just some extra time at home kicking your feet up. We do also advocate for the employer, so be sure that any leave taken is done so with keeping your employer happy too.
Below are all the dates and days to add to your calendar. We will share some of our leave tips to ensure you get the longest days possible.
Human Rights Day – Monday, 21st March 2022
Good Friday – Friday, 15th April 2022
Family Day – Monday, 18th April 2022
Freedom Day – Wednesday, 27th April 2022
Workers Day – Sunday, 1st May 2022 but observed Monday, 2nd May 2022
Youth Day – Thursday, 16th June 2022
National Women's Day – Tuesday, 9th August 2022
Heritage Day – Saturday, 24th September 2022
Day of Reconciliation – Friday, 16th December 2022
Christmas Day – Sunday, 25th December 2022
Boxing Day – Monday, 26th December 2022
Leave Ideas
One can maximise their time off by taking key days to create longer weekends. An example, by taking the 17th of June 2022 off, you would get a 4-day weekend. The same can be on for August by taking the 8th off; you again get a 4-day weekend.
Similarly, should you take eight days leave between from the 14th of April 2022, to the 3rd of May 2022, you would get a total of 18 days off due to the public holidays scattered throughout April.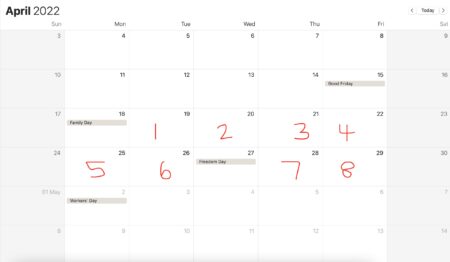 We hope you enjoy planning your leave. Let us know which break you are most looking forward to in the comments.
---