---
Former 7de Laan actress Themsie Times has died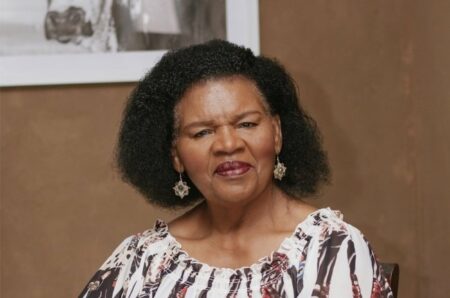 Veteran actress Themsie Times (70) has died.
Publicity manager at 7de Laan Kayleen Bessit confirmed the legendary actress's death but family and the SABC are yet to announce the cause of death.
"We are saddened by the news and a statement will be issued collectively with the SABC."
Best known for her role as Maria Zibula in the SABC2 soapie 7de Laan, she joined the show as a domestic worker for Oubaas and Hilda at the Heights apartments and became a good friend to Angie, played by Mimi Mahlasela.
In a previous interview with Move! magazine, Themsie admitted to being completely different from her role. She preferred to invest most of her time at work and church rather than socialising.
Read more l Nick Cannon loses his younger son to brain cancer
In 2016, Themsie announced to You magazine that she would be leaving 7de laan after 13 years.
Themsie said she did miss playing Maria, "Like her, I don't like nonsense and I don't shy away from the truth.
"If someone's wrong, I'll tell them. I won't talk behind someone's back. I'll tell them and then it's over," she says, sounding very much like Maria. "I care about people, and I love God. I always tell the truth," she told You.
Looking back at her previous storylines she mentioned when Maria, Oubaas, and Matrone (Annelize van der Ryst-Hattingh) made mampoer (Homemade alcohol) in a storeroom in the Heights and sold it. "It was very funny and a lot of fun," she told You.
Read more l Real Housewives of Johannesburg star Naledi Willers passes on
Background
When Themsie Times was 17 years old, she left her hometown in Ggeberha (Port Elizabeth) and moved to Johannesburg to pursue her dreams of acting.
Even though she came from an over-protective and grounded family, nothing stopped her from following her dreams of acting. But she said that her parents taught her how to show love and respect. The actress came from a family of seven children.
"I have a good relationship with my siblings and we respect each other. When our parents passed on in the early '90s, we became closer and to this day, we are good friends," she told Move!.
She also shared some of the hard times she had gone through.
"I was an alcoholic for years. But in 1986, I decided to accept Jesus as my life and saviour. I was saved and my life changed for the better. I have never looked back since.
"Today I live by prayer. The first thing I do when I wake up is pray. I ask Jesus for a productive and positive day and when I walk on set, I also pray and ask for God's guidance. I know that my life is in God's hands.
"If God has managed to change my life, then He can also change yours. Have faith and believe in Him at all times."
---